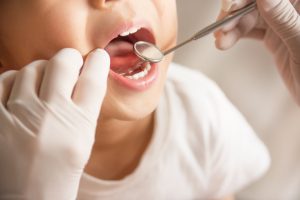 We suggest visits for kids at least once every six months for a checkup and cleaning, and an initial visit in infancy. In today's blog, your Round Rock, TX, dentist will talk about our approach to pediatric dentistry, and why kids of all ages benefit from regular visits for a checkup and to have their teeth cleaned.
The Exam Process
A checkup should happen about once every six months. With routine visits, w can keep a close eye on your child's smile as it grows and changes, watching for the earliest signs of common oral health issues. We look for cavities, infection, gingivitis, issues with baby teeth falling out or permanent teeth erupting, and the earliest indicators of misalignment. The sooner we identify these issues, the sooner we offer treatment. Early treatment then protects your little one from complications that could cause discomfort and impact their long-term oral health.
The visit itself consist of our team using advanced digital imaging technology to closely examine the teeth and gums, and perform a diagnosis with accuracy and precision. These visits also offer a chance for our team to instill good oral health habits, helping your children better understand their smiles. Routine visits have also been shown to reduce the risk of dental anxiety later in life!
Visits for Infants
The first visit should occur shortly after the first aby tooth erupts. The infancy visit doesn't involve treatment, but starts the process of our team keeping a watchful eye on your child's smile, and identifying potential problems in the earliest stages.
Cleaning Little Smiles
We also clean their smiles in this visit too. A dental cleaning involves using an ultrasonic scaling device to gently break up plaque and tartar buildup with vibrations. We also use a manual tool too. Removing plaque brightens teeth, fights halitosis, and also reduce the risk of tooth decay and other oral health issues. We can also discuss keeping smiles clean from home with better brushing and flossing habits in between your six-month visits. We would also love to discuss better snack and mealtime habits, and other methods of keeping smiles healthy and string throughout the year. If you have any questions about pediatric dentistry, or if you would like to schedule a visit for your little one, then please contact our team today. Let's help your kids enjoy their best possible smiles!
Pediatric Dentistry of Round Rock Talks About Checkup Visits
Pediatric Dentistry of Round Rock is ready to help your children enjoy healthier smiles throughout their childhood. If you want to learn more about our preventive visits and treatment options for babies, toddlers, kids, and teens, then start by contacting the Pediatric Dentistry of Round Rock in Round Rock, TX at 512-733-5311.