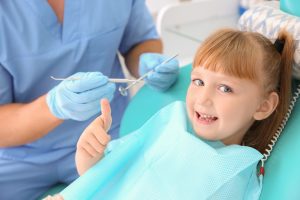 We want the kids visiting our office to enjoy their experience, and walk away excited for their next visit. However, we know that for many, dental anxiety and special needs could make undergoing even minor procedures difficult. In today's blog, your Round Rock, TX, pediatric dentist explains how we use anesthesia and sedation to ensure comfort during minor and extensive treatments!
Preventing Dental Anxiety
Children could develop dental anxiety due to poor past experiences, or as a result of no experience in visiting the dentist. We understand, and always take steps to help your little one feel calm and relaxed. We answer their questions and concerns, and carefully explain any treatment they will be undergoing. We've found that routine care every few months could help instill good dental habits, and reduce anxiety. However, with sedation we can help your little ones enjoy a calm state, and enjoy their time in the office!
Anesthesia and Sedation
General anesthesia is the deepest form of relaxation possible, with the patient unconscious throughout the procedure. We have a trained anesthesiologist present for their procedure. Your children remain asleep, with no memory of the treatment experience at all. A perfect option for those with intense dental anxiety.
With oral sedation, your little one enters a calm state after talking a pill a few hours prior to the procedure. Your child will have little to no memory of the procedure afterward, but the effects take time to wear off so your child may feel a bit groggy.
The most common form of dental sedation is nitrous oxide. This is administered by a mask over the nose. A gas is then used to help your child become relaxed, but able to respond to the dentist if necessary. The effects wear off quickly and your child will likely have no memory of the procedure. Your little could even return to school afterward!
A Summer Checkup
Now that summer break is here, you should consider scheduling a visit for a checkup and cleaning. We can make sure your child enjoys the summer with his or her best smile, and they can undergo treatments without missing school. Their next checkup should then fall around their winter break! If you have any questions about how we ensure your child remains calm and comfortable when visiting the office, then contact our team today to learn more. We're ready to help kids in our community maintain good oral health, brighter smiles, and obtain a better understanding of their oral health.
Pediatric Dentistry Of Round Rock Offers Treatment for Little Smiles
Pediatric Dentistry Of Round Rock is ready to help your children enjoy their time in the office. To find out more about calming treatment options, contact your Round Rock, TX, pediatric dentist, Dr. Thames, by calling 512-733-5311.