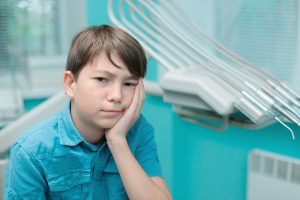 When a child chips a tooth, then treatment could be needed to help avoid the onset of tooth decay. In addition, kids could also have issues with the shape and color of teeth that complicate both health and esthetics. To transform your child's smile in only one visit, your Round Rock, TX, pediatric dentist could provide bonding and contouring.
The Benefits of Quick Repair for a Chipped Tooth
When a tooth is damaged, this could leave the sensitive inner tissues vulnerable to oral bacteria, a complication linked to tooth decay and dental infection. These issues could grow more severe with time, and even risk the premature loss of the baby teeth. Kids are active and dental injuries, including cracked or chipped teeth, often happen. However, treating them prevents complications like cavities or infection! When your child chips his or her tooth, then try to recover any pieces you can and bring them with you. If this is impossible, don't worry, treatment is still possible! Use a cloth or bit of gauze to stem any bleeding, and a cold compress or ice pack to the side of the face to control facial swelling. Your little one can take an age-appropriate over-the-counter pain reliever. Give us a call, and we will arrange for a time to see you quickly!
Dental Bonding
The bonding procedure only takes one visit to complete, and uses the same material we employ for our tooth-colored and metal-free dental fillings. After we administer a numbing agent to ensure your little one is comfortable, we will remove any decay and clean the tooth. We may etch the surfaces before we apply the composite resin. The material will be color-matched to blend with the smile seamlessly. The material is cured as the dentist shapes the tooth. Finally, we polish the tooth for a more lifelike appearance.
Other Cosmetic Benefits
Along with repairing damage, we could also mask discoloration that forms due to decay, injury, or fluorosis. Our team can also reshape malformed teeth and close gaps between teeth. The material could even help improve the overall balance of the bite too!
Contouring a Tooth
We also have the contouring procedure, which allows us to address more esthetic issues quickly by sanding and buffing the tooth. We can reshape overly large teeth, dull sharp or pointed portions of the smile, and also remove any grooves, pits, or rough patches in the tooth structure. If you have any questions, then give our team a call!
Pediatric Dentistry Of Round Rock Offers Cosmetic Treatment
Pediatric Dentistry Of Round Rock provide cosmetic treatment to improve both the health and beauty of little smiles. To find out more about our team will treat issues like chipped teeth, contact your Round Rock, TX, pediatric dentist, Dr. Thames, by calling 512-733-5311.