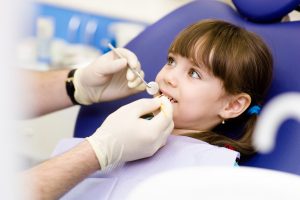 Until they are old enough to take care of their teeth without your help, you will play a direct role in keeping your kids safe from problems like dental decay and gum disease. However, you do not have to be the only person in their life helping them! Regular pediatric dental checkups provide important early feedback, give kids guidance on the value of oral health, and lead to helpful warnings about developmental issues and other concerns. Our Round Rock, TX pediatric dentist's office is here to help our patients maintain their growing smiles. In addition to keeping their teeth and gums healthy, we can provide support in situations where oral health treatment might be necessary.
The Importance Of Dental Exams At An Early Age
Dental exams help your child in several ways. Their earliest appointments introduce kids to the dentist's office, and help them grow comfortable with oral health care and their dentist. At the right age, we can start providing preventive care that resembles the support that adults receive during their own appointments. However, they can receive certain extra forms of support that are beneficial. One thing we can do is help kids learn how to take care of their teeth, and why doing so matters. Another is that their pediatric dentist can monitor their growth and development, with an eye for possible concerns. That includes watching for common issues, like malocclusion, that will call for treatment later.
Starting Preventive Care For Your Child
When your baby's first tooth arrives, bringing them in for an infant evaluation can be beneficial for several reasons. This is a safe and soft introduction to both the dentist and dentist's office, which can make later appointments easier. We can also offer you helpful tips on protecting their developing smile from decay.
We Can Take Care Of Kids Who Experience Dental Problems
With the right intervention, we can help you keep your child's smile cavity-free! However, if they do have a problem with their oral health, we can step in and provide the appropriate restorative dental work. A procedure to carefully restore a cavity can prevent oral health issues, and it can still preserve their appearance. While patients at all ages should be concerned about decay, it can be particularly concerning for younger children because it can affect the health and arrival of their adult teeth.
Bring Your Kids To Pediatric Dentistry Of Round Rock
When you start bringing your kids to the dentist's office for support, you can help them enjoy an important level of protection for their smile! Pediatric Dentistry Of Round Rock provides encouragement and support in addition to beneficial oral health services. To find out more, contact your Round Rock, TX, pediatric dentist, Dr. Thames, by calling 512-733-5311.