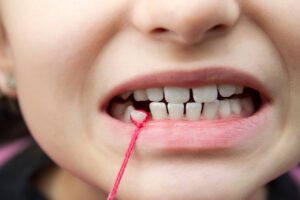 Sometimes, when children have a severely damaged tooth or one with major decay or infection, then a pulpotomy may not be enough. To prevent the spread of infection, we may suggest a tooth extraction. In today's blog, your Round Rock, TX, pediatric dentist talks about our approach to a tooth extraction.
When Kids Need a Tooth Removed
When possible, we want to save a tooth and preserve it with a filling or crown, or possibly even dental bonding. But sometimes trouble arises that cannot be addressed with a restoration, and leaving the tooth in place means danger for surrounding teeth, as well as worsening pain. Examples include teeth with severe damage, decay, or infection, or one that stands in the way of orthodontic treatment or inhibits proper chewing function and bite balance. As your kids approach their adult years, we could also use extraction to remove wisdom teeth before they threaten the balance, health, and beauty of the smile with painful impactions.
Dental Sedation
We know this can seem scary to some kids, and they may worry about discomfort. But we take time to listen to your children's concerns, and to explain the treatment in detail, including what tools we will use. Our team also uses local anesthesia and sedation to keep them comfortable! Local anesthesia helps numb the areas being treated. Sedation helps kids enter a calm and relaxed state, with little to no memory of the procedure. We could use nitrous oxide, oral sedation, or IV sedation. We choose one based on your child's age, weight, medical history, and anxiety levels, as well as what procedure we will be conducting.
The Procedure and Recovery
Once your child is comfortable, the procedure will take about 30 minutes. As we gently remove the tooth in question with a pair of forceps and then gently suture the area closed. We will provide aftercare instructions, and also prescriptions for medication. Make sure your child rests of the first day, and be gentle when brushing and flossing. They should eat only soft foods, and avoid poking the site with their tongue or fingers. The area needs to clot to heal properly! In a follow-up visit, we can remove sutures and make sure everything is healing properly.
If you have any questions about how we treat these issues, or about our calming agents, then contact our team today to learn more. We want to help your kids smile with confined!
Your Round Rock, TX Dentist Offers Treatment for Little Smiles
Our team wants to help children avoid the complications of a severely damaged or decayed tooth. To find out more about how our team can offer a calm and comfortable treatment, contact your Round Rock, TX, pediatric dentist, Dr. Thames, by calling 512-733-5311.