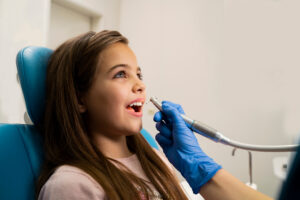 When a child's tooth develops a cavity, treatment is crucial, as the risk of worsening decay and even infection will increase with time. To help stop cavities and bring relief, we can offer fillings that blend with the smile. In today's blog, your Round Rock, TX, pediatric dentist talks about restorations for kids.
Cavities
When children have cavities, they could experience tooth sensitivity to hot or cold foods and drinks, as well as toothaches that grow more severe with time. Lack of treatment, or attempting to wait for the baby to fall out before treatment, could mean infection or even the premature loss of the tooth, a major factor in the onset of misalignment. Cavities occur when the protective enamel is weakened and eroded, often due to injury or poor oral hygiene that encourages plaque buildup. Don't ignore your child's discomfort, bring him or her in for treatment. In addition, attending six month visits regularly means we can likely uncover cavities before discomfort even occurs!
Dental Fillings
The placement process only takes one visit. The filling is made from composite resin, a lifelike material we can shade to blend with the tooth. This is also safe for all ages, as it is metal-free. To begin, we will numb the tooth and remove the decay. We then clean the tooth and prepare the composite resin material. We apply this in several layers, sculpting the tooth and molding it as the composite resin cures under a light. The last step is to polish the tooth for a brighter appearance. In a single visit we can treat the cavity, bring relief, and offer lifelike results for kids of all ages!
Lowering the Risk of Cavities
You can help your little one enjoy a reduced risk of tooth decay. First, make sure they brush or have their teeth brushed twice a day using a fluoride toothpaste, usually a rice sized amount for kids three and younger, a pea sized amount for older kids. They also need to floss each evening to remove what a toothbrush cannot reach. Try to cut back on their consumption of sugary foods and drinks, and schedule checkup and cleaning visits every six months as well, so we can watch for signs of trouble and remove all plaque and tartar completely.
If you have any questions about treating little smiles with dental fillings, or about cavity prevention, then contact our team today to learn more.
Talk To Your Round Rock, TX Dentist About Restorative Dentistry
We would like to help your kids avoid infections and the risk of premature tooth loss. To find out more about our lifelike restorations for children, contact your Round Rock, TX, pediatric dentist, Dr. Thames, by calling 512-733-5311.