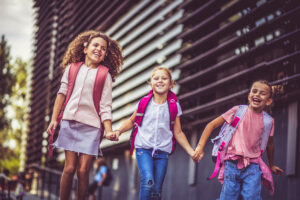 Your children will be going back to school in just a few weeks. In addition to shopping for school supplies, you can get your kids ready with a routine dental appointment. In today's blog, your Round Rock, TX, pediatric dentist talks about the importance of your child's back-to-school visit.
Making Smiles Ready for School
Things will become pretty busy for your children once the school year starts! They will have classes and extracurricular activities, and missing them for appointments could run the risk of them falling behind. But if you schedule a checkup and cleaning now, our team can examine their smile and take preventive measures to lower the risk of cavities and other oral health concerns. If we discover cavities or other common oral health problems, we could schedule a visit for treatment and ensure they start the new school year with a strong, healthy, and bright smile!
Dental Exams and Professional Cleanings
The exam means we use digital x-rays and intraoral camera technology to thoroughly examine the teeth and gums for possible signs of trouble. We watch for cavities, infection, and even gingivitis. We also screen for oral cancer and will make sure baby teeth fall out as they should and that permanent teeth can erupt properly, as this lowers the risk of dental misalignment.
The cleaning portion will involve the use of an ultrasonic scaling device and a manual tool to gently and carefully break up and remove all plaque and tartar buildup. Doing so helps lower the risk of tooth decay and gingivitis, while also fighting bad breath and teeth stains. Kids should see us about once every six months, so we can always watch for the earliest signs of developing issues and treat them before painful symptoms and complications arise.
Preventive Treatment Options
Our team can also provide preventive treatment to help reduce the risk of tooth decay during the school year. As part of your child's checkup visit, our team will provide fluoride gel to strengthen the outer enamel and lower the risk of cavities. We also have dental sealants, which are a thin plastic coating we apply to the molars, the teeth in the rear of the mouth that kids have trouble reaching when they brush and floss. If you have any questions about how we protect little smiles and prepare them to head back to school, then contact our team to learn more today.
Talk To Your Round Rock, TX Dentist About Dental Checkups
Our team wants to help little kids start school with their best smiles, and that means scheduling a preventive checkup and cleaning visit. To find out more about keeping little smiles safe and strong, contact your Round Rock, TX, pediatric dentist, Dr. Thames, by calling 512-733-5311.