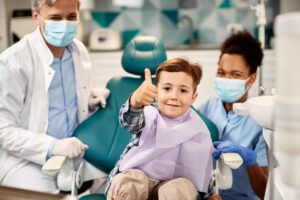 With the support of their parents and their dentist, kids can develop good oral hygiene habits that protect them from cavities and other smile threats. At our Round Rock, TX dental office, we are proud to provide the kinds of services in the office that help our young patients enjoy lower risks from dental decay. In addition to in-office care and guidance on good hygiene at home, we can provide support through the use of fluoride treatments and dental sealants. With these services, we offer support by encouraging faster recovery from decay before cavities form as well as by creating a barrier between enamel and harmful agents.
We Help Our Young Patients Stay Safe From Cavities
Cavity prevention is not the sole focus of pediatric dental care, but it is important when it comes to successfully protecting your child's smile from harm. During preventive dental appointments, we can emphasize the need for maintaining healthy teeth, and when kids are old enough, we can provide guidance as well as in-office cleanings. At appropriate times, we can take protection from decay even further by providing fluoride treatments and applying dental sealants. With this added support, kids are less likely to experience problems that make restorative dental work necessary.
How Sealants And Fluoride Treatments Lower Risks For Dental Decay
Through the use of dental sealants, we can create barriers between teeth and harmful bacteria and food debris. A clear substance will coat teeth, typically the back teeth that are harder to defend, so that they are not going to experience consequences from the accumulation of plaque and remnants of meals and snacks. While sealants do wear away over time, they can remain in the spaces between cusps of molars, areas that can more easily capture food particles and prove harder to effectively clean while brushing.
Fluoride is a mineral that can actually encourage better enamel recovery. Exposure to it can help kids' teeth recover faster from minor decay, which means they will not experience problems with the formation of cavities. You can also find fluoride in ADA-accepted toothpaste brands.
Additional Benefits To Pediatric Dental Appointments
As kids continue to visit their dentist, they receive regular support that keeps them safe from problems with their oral health, and they receive guidance that will help them better care for their smiles between appointments. The right experience at an early age also helps because it can make children feel more at ease in the dentist's chair and more committed to good habits at home.
Talk To Your Round Rock, TX Dentist About Protecting Your Child's Smile
Problems with dental decay are frustrating at any age, but they can be particularly troubling when they affect kids, as they can have a negative impact on their development! To find out more about how fluoride treatments and dental sealants can help, contact your Round Rock, TX, pediatric dentist, Dr. Thames, by calling 512-733-5311.