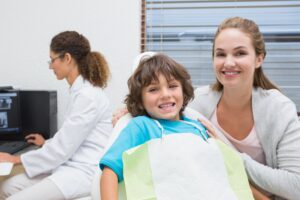 Kids stay safe from oral health threats when they have access to reliable smile protection at home, which is why parents should take on an active role in helping them keep their teeth clean, and why they should count on your guidance to prepare them to brush and floss on their own. As important as you are when it comes to helping your child develop good oral hygiene habits, it is also important that they regularly see a dentist for routine examinations and cleanings. At our Round Rock, TX dentist's office, we can provide valuable care during every routine pediatric dental evaluation. From the time they first start care through the years when their support more closely resembles the kind of care adults enjoy, kids can count on us for dependable care as well as guidance to help them feel more confident in their own efforts at protecting their teeth and gums.
Parents And Dental Visits Are Important For A Child's Oral Health Development
While it is important that you play an active role in helping your kids care for their teeth, as well as in helping them learn good oral hygiene habits to follow on their own, they should also have support from their dentist. Pediatric dental exams help kids maintain healthy smiles in significant ways. One immediate benefit is that we can evaluate their teeth and gums to look for active problems. We can also provide guidance as they learn to brush and floss, which can help them take on these habits for themselves and be more effective at them. For younger patients, these visits serve as an introduction, something to help them feel at ease with future appointments as well as an early opportunity to learn if there are developmental concerns.
What We Can Do For Kids Who Have Active Problems With Their Dental Well-Being
If one of our young patients has a problem with their oral health, we can explain the situation and recommend the appropriate care for them. Our approach to restorative dental work can minimize discomfort as well as any changes to the appearance of a tooth. While it can be reassuring to have access to this care, remember that regular visits make it less likely your child will need more involved services!
Make An Appointment For Your Kids At Our Round Rock, TX Dentist's Office!
Through the regular services we provide our young patients, our Round Rock, TX dentist's office can help them grow up with teeth that are healthy and lovely! There are many actions that we take to help kids remain supported against different oral health threats, and we offer them support at the right ages to help them learn how they can take care of their teeth and gums on their own. If you have questions about keeping your kids safe from cavities and other smile threats, or if you wish to set up an appointment, you can reach Pediatric Dentistry Of Round Rock by calling 512-733-5311.