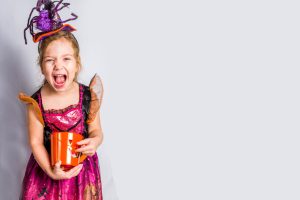 We want our patients and their families to enjoy a fun and exciting Halloween, and even go trick or treating! But we also want to help them enjoy a reduced risk of developing tooth decay. In today's blog, your Round Rock, TX, pediatric dentist offers a few simple tips to help protect little smiles from the threat of tooth decay!
Candy, Cavities, and Toothaches
We love trick or treating as much as anyone else, but we're also aware of the risk posed to your smiles. When kids and adults alike consume too much sugar, this leaves particles behind on and between the teeth. As bacteria then break down these bits of food, this creates higher levels of oral acidity and coats the teeth in plaque. Over time, this means the onset of tooth decay, and with it, sensitive and aching teeth. To protect the smiles and avoid discomfort and the risk of future infections, we recommend a few changes to your normal routine.
Choosing Healthier Treats
First, try to limit yourselves to a few pieces after a meal each day, and drink a glass of water to help rinse away any trapped particles. You could also consider allowing your children to pick a few of their favorites from their haul and trade the rest to you for a small toy or a couple of dollars, so everyone has fun without putting their teeth at risk.
Alternatives to Candy
Should you find yourself handing out treats to the neighborhood, you could opt for healthier alternatives to candy, such as sealed packages of trail mix and nuts, or even sugar-free gum. In addition, you could choose party favors that can be bought in bulk cheaply, such as spider rings, rubber bats, or plastic skeletons. These make fun and spooky treats without leaving smiles at risk of developing painful cavities.
Boosting Your Child's Oral Health
Good oral hygiene is also essential! Your kids should brush their teeth twice a day and also floss every evening. Each session of brushing should take two minutes, and make use of a fluoride toothpaste. A checkup and cleaning is also crucial, as we can examine the smile for signs of trouble and also remove all harmful plaque and tartar. Consider scheduling one now to avoid finding time during the hectic holiday season to come. If you have any questions, then contact our team today to learn more.
Talk To Your Round Rock, TX Pediatric Dentist About Children's Dentistry
At Pediatric Dentistry Of Round Rock, our team is ready to help kids enjoy stronger and healthier smiles. If you want to learn more about protecting the health of little smiles, then please contact your Round Rock, TX, pediatric dentist, Dr. Thames, by calling 512-733-5311.