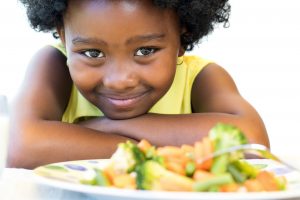 While a checkup and cleaning visit every six months is good for children, they also need to take charge of their oral health at home. The actions and steps we take daily help reduce the risk of cavities, gingivitis, and other oral health concerns. In today's blog, your Dallas, TX, pediatric dentist will talk about how to care for little smiles at home.
Avoiding Sugary Foods
When kids consume foods with high amounts of sugar and starch, these could be more likely to cling to the teeth. Harmful oral bacteria then have an opportunity to consume these particles, a process that leads to high oral acidity and plaque buildup. Plaque not only causes bad breath and stained teeth, but could weaken enamel to make cavities more likely. For older kids, the gum tissues could become inflamed too, making gingivitis more likely. Instead, encourage your kids to eat fresh fruits and veggies, whole grain crackers or bread, sugar-free gum, or low-fat yogurt and cheeses. Remember that dried fruits contain lots of sugar without the water content of the fresh variety, so they could be a source of cavities too!
Drinking More Water
Consuming beverages with lots of sugar and acids, like sports drinks, energy drinks, fruit juices, or sodas, could increase the risk of plaque buildup and make the onset of a cavity more likely. Try to encourage your child to drink more water. A glass of water contains no acids or sugars, helps cleanse the mouth, and also helps hydrate your little one too! There are no downsides to water, and drinking a glass after enjoying the occasional soda or candy could help limit the risk of cavities.
Brushing Daily
As soon as a tooth erupts, it needs to be cleaned. Which means brushing twice a day is vital for kids of all ages. You can help them pick out an age-appropriate toothbrush, and make sure they use a rice-sized bit of fluoride toothpaste. You can assist them in their younger years, and monitor them as their dexterity improves. Remember, each session should take about two minutes for a smile with all teeth erupted. A fun song or app could help time them.
Don't Forget About Flossing
Once there are teeth sitting next to each other, there is a risk of food particles becoming caught. These bits of food are now beyond the reach of a toothbrush! Flossing, whether your kids use a pick or tape, should occur every evening before going to bed.
Pediatric Dentistry Of Round Rock Wants Your Family to Enjoy Good Oral Health
Pediatric Dentistry Of Round Rock wants to help your kids make good choices for their oral health. To find out more about our treatments for kids of all ages, then contact your Round Rock, TX, pediatric dentist, Dr. Thames, by calling 512-733-5311.